Astrology provides a fascinating lens through which we can view not just the stars and planets, but also ourselves and our paths in life. One key celestial player in this cosmic dance is Mars, often referred to as the "Red Planet". But, what does Mars mean in astrology, and how does it influence our individual zodiac signs?
Mars, known as the god of war in Roman mythology, brings with it a fiery, dynamic energy. In astrology, Mars is the planet that rules our:
Drive
Ambition
Instincts
Sex life
Raw energy
Courage
Assertiveness
Understanding your natal Mars sign, or the position of Mars in your birth chart, can reveal a lot about these aspects of your life.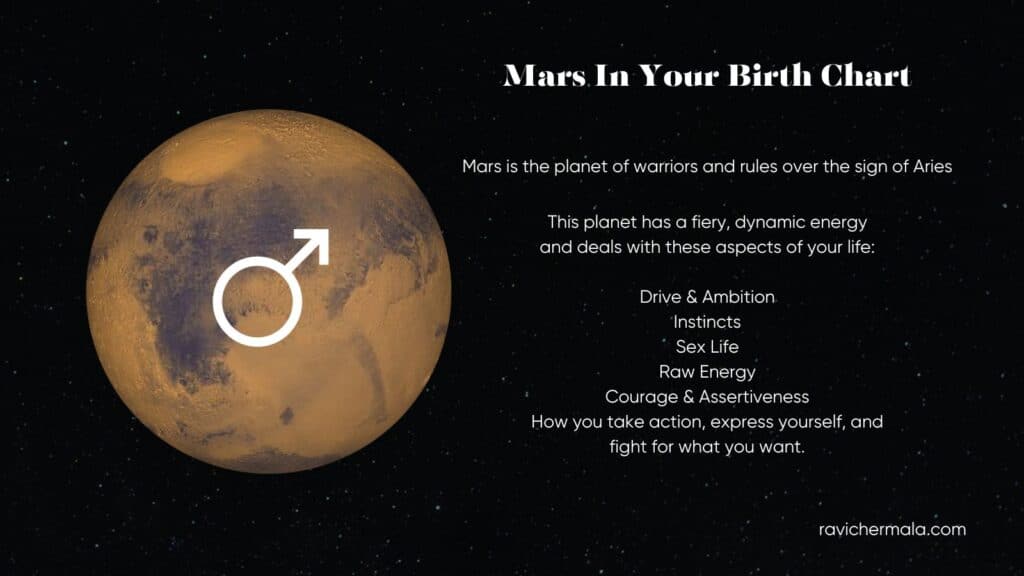 What Mars Means In Each Sign:
Mars in Aries
Here, Mars feels at home, endowing individuals with high energy, pioneering spirit, and a direct approach in life.
Mars in Taurus
This placement offers a more steady, persistent drive. People with Mars in Taurus pursue their goals with endurance, though they might resist change.
Mars in Gemini
Mars in Gemini signifies a quick, versatile, and intellectual approach. Their actions are often driven by curiosity and a thirst for knowledge.
Mars in Cancer
For those with Mars in Cancer, actions are often motivated by emotions. They might display a protective, somewhat defensive energy.
Mars in Leo
Mars in Leo individuals channel their Mars energy through creative, dramatic, and passionate means. They love to be noticed and appreciated.
Mars in Virgo
With Mars in Virgo, actions are precise and methodical. People with this placement channel their energy into practical, detail-oriented pursuits.
Mars in Libra
Mars in Libra brings a desire for harmony and balance, but there can be a tendency towards indecisiveness. They advocate for fairness in conflict.
Mars in Scorpio
Mars in Scorpio individuals channel their energy intensely and deeply. They are known for their powerful drive, resilience, and strategic approach.
Mars in Sagittarius
Here, Mars ignites the wanderlust and desire for exploration. Actions are guided by ideals, philosophy, and a love for adventure.
Mars in Capricorn
Mars in Capricorn signifies a disciplined, calculated, and ambitious drive. Individuals with this placement are strategic and determined to achieve their goals.
Mars in Aquarius
With Mars in Aquarius, actions are often unconventional and geared towards social change or unique innovations. They're driven by a desire to be different.
Mars in Pisces
Mars in Pisces individuals might find their energy channeled through creative, artistic, or spiritual endeavors. Their actions are often guided by intuition rather than logic.
Conclusion
In essence, Mars in your astrological chart can shed light on the way you fight for your dreams and stand your ground. This paints a fuller picture of your innate strengths and areas for growth. No matter where Mars is in your chart, embracing this energy leads to an understanding of your personal power and how to wield it.
Check out my blog to learn more about yoga, astrology, meditation, and more!